After Friday's post, I have been reminded yet again just how blummin' amazing you people are. I know that sometimes people, other people, use a particular intonation when they say "you people" that really puts a big distance between them and "you people." You know those people. You know what I mean. The sort of people who think there are "fine people on both sides" and yet still manage to deny personhood to the people they don't really like. Nevertheless, you people are the best. You people are my people and you humble me.
(I know that I've just othered a bunch of wankers and racists but fuck the fuckers. Seriously, just fuck them. However, the irony of my doing that is not lost on me.)
It's true to say that life in self-isolation had been getting to me. I was feeling lower and lower and I couldn't really see a way out. A couple of things changed at the end of last week. They first was being told I could take my car to find a quiet spot in which to exercise and the second was the cathartic brain dump I posted on Friday afternoon. I have had so much support and loving-kindness shown to me following that that I really have to acknowledge it publicly. There's a difference between knowing that there are people around for you and feeling those people around you. The self-isolation means that the usual hugs and fist-bumps and hand-holding have all gone. Physical touch from my friends is no longer a habit. However, the messages I have received from so many of you have been more than enough to feel your support and I am truly, madly, deeply grateful.
Just to make it clear, we're fine. We're well, we're putting a stash of supplies away not to be touched unless one or both of us falls ill and we will continue to be self-sufficient physically at least as long as Anne can get into a supermarket and I can drive her home afterwards if she needs it. If any of that changes, we know we can count on our friends to help and you already have. I have now lost count of the offers I have had to go and get some shopping or collect prescriptions. Emma dropped round with some of her amazing bread and I thank her with every delicious morsel I eat.
That I got out and onto the Roman Road for a walk yesterday was very special. It's just about my favourite place on Earth. It's just behind my pillow next to Anne at any time we're both in bed, and the end of the pier at St Andrews but ahead of that wee cafe next to the gates of the Arsenale in Venice where I go for a quiet skulk every time we're in the city. Somebody had told me the weather was a bit cold so I was wearing far too many layers including a waxed jacket and big scarf and got stupidly sweaty after only five minutes walking. I parked the car near Worsted Lodge and headed out towards Balsham.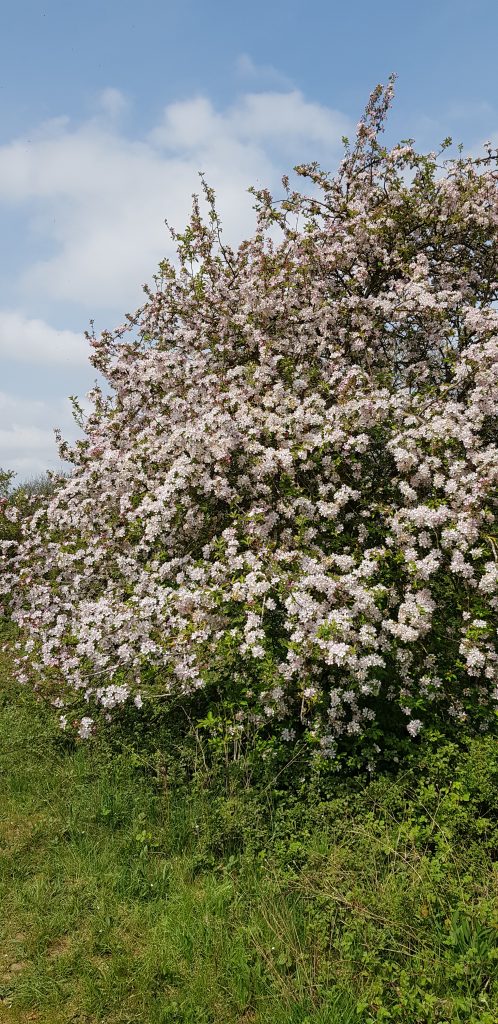 There's a reason that cliches become cliches. I usually avoid them like the plague but these are strange times. The banks of blossom along the hedgerow were alive with life itself. They buzzed, bee-filled and beautiful. The blossom itself was white or palest pink. There were blue flowers and yellow flowers spread across the grass beside the wide path, benign Lego bricks to catch the eye and stop your breath with the smallest of joyful gasps. Skylarks sang invisibly above, the only soundtrack after ten minutes as I left the traffic behind. I saw not another soul for almost half an hour and turned back as soon as I did. There was a family out walking their dog coming the other way.
On the way back, a cyclist came down the path towards me very slowly. It could have been a roaring downhill for him but he slowed right down and I made my way up the bank so we could observe a socially-distant three or four metres as he passed. Another couple were coming down towards me as I got close to the car. The woman wished me a good morning at almost three in the afternoon and then giggled in her confusion. I replied saying that nobody really knew what time it was anymore anyway. We were able to give one another room again. I was up on what had been the top of the road 1,700 years ago and they were strolling along the bottom of the drainage ditch. All was well.
All is well, or as well as it can be. Anyone who thinks this will be over in three weeks is deluding themselves or preparing to lie to others. We have weeks of this yet to come but for those of us who avoid infection it won't be too bad. I have my friends and I love them dearly.
Thank you.